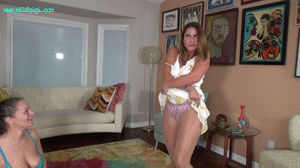 39:50 video
~Carissa Dumond~Natalie Charm~Jim Hunter~
Natalie and Carissa are ready for a fun card game. The bets are high, loser gets tied first and, in the end, if no one escapes the binds, this becomes a weekly event for them. The cards are ready for them, and they sit down to get started. Nervous yet excited they take turns, Natalie immediately on a losing streak. Carissa's next draw fails her, so she removes a shoe. Natalie thinking her luck has changed gets another low card and now she takes off her top.
A couple more rounds and Natalie is just in her bra and panties, Carissa the same but still has her pantyhose. Seeing things are starting to even out, Natalie is hopeful, until she loses her bra next. The card game is nearing its end and Carissa now removes her bra. The final round takes place and Natalie peels off her panties. While the cards are done, the game has just begun.
The hunter comes in for the next phase, with plenty of rope for the bondage babes. They love to get bound up in his strict ties and are always up for a challenge. First tying the loser, he starts with a snug rope on her wrists, then knees, followed by ankles. He strictly ties her elbows together, crushing them, Carissa enjoying the show. He adds a crotch rope, having Carissa make sure it's really in there before he ties Natalie off into a crogtie. Carissa gags her with a sock and the Hunter secures it, wrapping duct tape around her head.
While Natalie gets settled into her practically fused bindings, Carissa is up next receiving the same treatment, but with crossed ankles. He packs her panties into her mouth and wraps duct tape around her head a few times. He fucks with her, pinching her nose off, causing her to struggle. They are now left to try and get free.
Knowing these ties are impossible to escape from on their own, they try to work with each other. Wobbling and rolling, every movement tugs the rope that is tightly in their pussies. Carissa backs into Natalie trying to reach her ties, Natalie hopelessly trying to use her hands as well. Mumbling and whimpering thru their gags they are trying their hardest. Flipped on their backs the begin grinding into the rope, enjoying the sinful pleasure it brings as it rubs their clits.
Bucking their hips, rolling and twisting, they will exhaust every attempt. Still failing to get out or help each other out, they begin grinding again, sending them into more orgasms. The hunter returns seeing each girl is still a tightly bound package. He maneuvers Carissa to cuddle up with her friend before leaving them, reminding the losers, same time next week.